Monetizing a Travel Blog with Kalyn Franke
It all began with an unforeseen journey. When Kalyn Franke embarked on a study abroad adventure in London, little did she know it would transform into a life-defining endeavor. Restricted by her visa from full-time work, she started her blog in 2015 as a way to fill her days. 'Girl Gone London' became her creative platform to share her unique experiences and insights.
As her blog posts began to rank on Google, it dawned on her that she had something special. Today, she's generating $8,000 per month through a mosaic of income streams, including advertising, affiliate partnerships, and even royalties from her published book.
Here, we uncover:
The decision to stay in London
Her initial blog posts
The journey to becoming a published author
A breakdown of her income sources
Her work routine
Insights into her website traffic
Her primary marketing strategies
The growth of her Facebook community
Kalyn's take on SEO
Her approach to keyword research and link building
Content creation techniques
Strategies for expanding her email list
Preferred resources and tools
Her most formidable challenge
Her proudest achievement
Her top learning from the journey
An invaluable piece of advice for budding entrepreneurs
Meet Kalyn Franke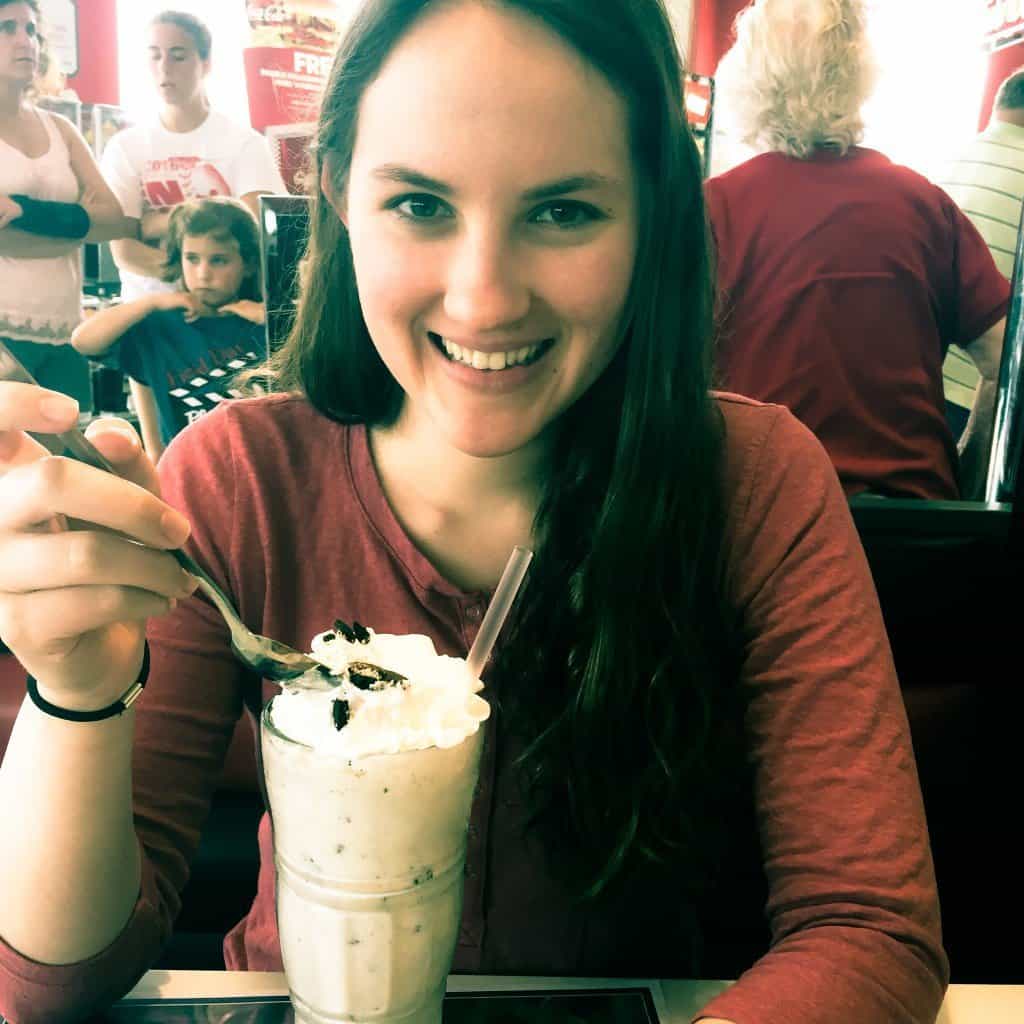 Kalyn, a 31-year-old dual American and British citizen, resides near London. Her journey began at 19 when she ventured to the UK as a study abroad student, eventually meeting her now-husband, a British national.
Growing up in Orlando, she made a significant shift for her undergraduate studies at the University of Pittsburgh. The "Pitt in London" program was her gateway to London, even though she initially expected it to be a one-semester stay.
Kalyn pursued a master's degree in public relations and nurtured her passion for writing and content creation. Her pre-blogging career encompassed various 9-to-5 jobs, spanning food delivery services, bookshops, American study abroad programs, and governmental communication roles.
Why She Launched Her Website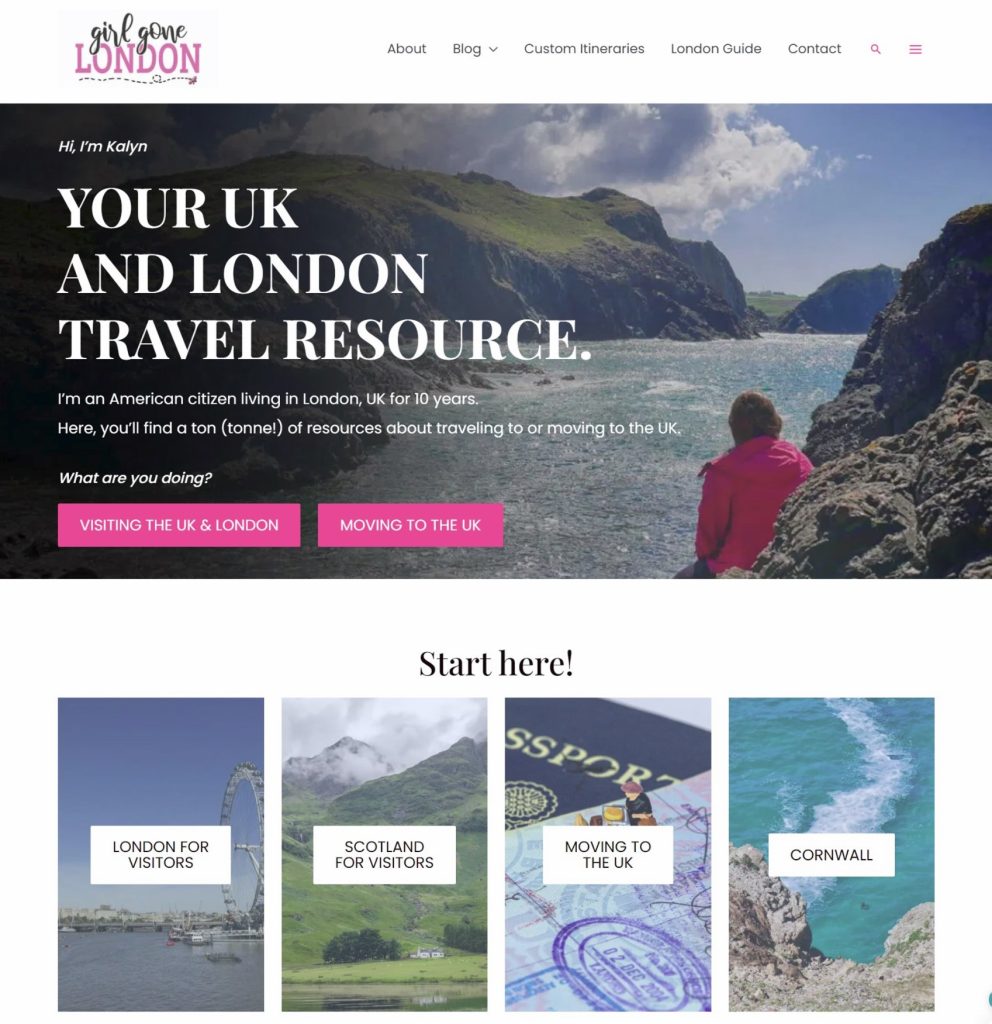 'Girl Gone London' was initially a hobby, born out of necessity. During one of her UK visa stints, which restricted her from full-time work, she sought a creative project to occupy her time. The blog's early posts were personal anecdotes, ranging from a spontaneous trip to Copenhagen to her first 5k race experience.
What started as a hobby gradually evolved as her posts began ranking on Google. Her first sponsored post opportunity, valued at just $50, sparked the realization that her blog had the potential to become a business.
Established in 2015, it wasn't until 2021 that 'Girl Gone London' became her full-time pursuit. The website has now expanded into a book titled 'Girl Gone London,' available on Amazon, and an assortment of courses and resources aimed at assisting readers in planning their UK trips or relocations. Kalyn self-published the book through Amazon, selling over 3,000 copies and earning nearly $20,000 in royalties.
Diverse Income Streams
In totality, her website, in combination with supplementary income channels, nets approximately $8,000 monthly. This income is derived from various sources:
Advertising (Mediavine): $3,200
Viator affiliate bookings (tours, attraction tickets): $3,500-4,000
Other affiliate bookings (hotels, theater tickets): $500
Amazon affiliates (products): $650
'Girl Gone London' book royalties: $250
Products and services (London travel guides, itinerary planning): $300
Kalyn's journey towards transforming her blog into a full-fledged business began around 2017/2018. However, she didn't achieve these income levels until around 2021, even though the site existed before that. Her diligent efforts, trial and error, and the process of building a sustainable online business played pivotal roles in her success. Her dedication to monetizing a travel blog shines through every aspect of her story.
Kalyn typically dedicates 20-30 hours per week to her website. Over time, she has structured it to a point where she can take extended breaks without worrying about its maintenance.
Her site garners an average of approximately 100,000 monthly sessions, showcasing its consistent popularity and success.
Her Primary Marketing Approach
SEO is the linchpin of Kalyn's marketing strategy. In addition to SEO, her highly active private Facebook group, boasting nearly 10,000 members, plays a crucial role. This group allows her to engage with her audience, fostering a community of individuals planning UK trips or relocations.
Her distinct approach establishes a personal connection, making her the go-to expert in this niche. This approach involves not merely maintaining an anonymous website but also presenting herself as an authority, offering honest and empathetic responses to readers' concerns and celebrating their travel plans.
Embracing SEO
SEO takes center stage in Kalyn's business strategy. Her SEO strategy is nothing new or revolutionary. I don't actually use a ton of tools. I just use KeySearch to look up keywords in my niche and then look for related keywords to include in the post and try to write the best possible article on the topic. She showcases the importance of SEO as a fundamental aspect of monetizing a travel blog and growing a sustainable online business.
Keyword Research Insights
Kalyn takes a creative approach to keyword research. She enters random ideas into KeySearch, examining the tool's suggested searches and selecting keywords with a difficulty score below 40, taking her site's authority into account. For some articles, she writes first and integrates relevant keywords afterward, demonstrating that a deep understanding of her audience eliminates the need for constant keyword research.
Link Building
While she practiced link building more frequently in the early days of her site, Kalyn still incorporates this strategy. She engages in guest posts and collaborations with other travel blogs, offering valuable insights in exchange for backlinks. Her expertise on expat life as an American has even attracted natural links from multiple news outlets.
Content Creation Process
'Girl Gone London' boasts 364 published posts, organized into topic silos. Kalyn maintains a dynamic list of researched keywords, selecting a keyword to develop a draft. She crafts the post, starting with the title and outline, and then expands on it. The finishing touches include adding photos, links, and other elements before publication. Her personal photo collection, cultivated from her experiences around London and the UK, adds authenticity and trustworthiness to her content.
Currently, the site has 364 published posts. I try to create content in silos of topics, but I definitely have shiny object syndrome when it comes to keywords and posts and do jump around a bit. Her relentless focus on content creation is a testament to her dedication to monetizing a travel blog. Her diversified approach ensures that her blog continues to thrive, offering value across multiple topics in the travel niche.
Building an Email List
With a substantial email list, Kalyn tailors her approach to cater to her audience's infrequent travel planning needs. Opt-ins on her website offer free resources such as London guides, and she fulfills her promise by delivering exclusive information in her emails.
I have an email list of multiple thousands of people at a time, but because planning trips to the UK is typically a once-in-a-lifetime or once-every-few-years experience for many people (especially visitors from abroad), I really have to focus on the initial email series that they get instead of having them on my list multiple months or years from now, when they really just might not need my information anymore. Monetizing a travel blog effectively involves building and nurturing an engaged email list that caters to the unique needs of her audience, who plan their UK trips over longer timeframes.
Favorite Resources and Tools
Kalyn's learning resources include podcasts like Side Hustle Nation, Food Blogger Pro, and the Niche Pursuits podcast. When it comes to mindset development, she finds inspiration in the Mind Your Business podcast with James Wedmore. She has primarily relied on free resources such as the Mediavine blog, SEMRush tips, and reputable Facebook blogging groups to master SEO and blogging.
Preferred Tools
Kalyn keeps her toolkit simple, primarily using KeySearch for keyword research, Agathon for site hosting and technical support, and ClickUp for organizational purposes. She occasionally collaborates with writers but manages most of the content herself.
Overcoming Challenges
Kalyn's journey wasn't without its obstacles. In November 2019, a Google update significantly impacted her website's traffic, nearly halving it overnight. She persevered and, with time, saw her traffic recover and exceed its previous levels.
The COVID-19 pandemic presented another challenge, particularly for the travel industry. Her website's income saw a significant decline as travel restrictions and lockdowns were implemented. However, she recognized the need for diversification and took steps to secure multiple income streams.
Proudest Achievement
For Kalyn, her greatest accomplishment has been turning her passion for blogging into a full-time career with a substantial income. The ability to transform her hobby into a thriving business, granting her more control over her life, stands as a testament to her journey's significance.
Valuable Lessons Learned
Reflecting on her experience, Kalyn wishes she had realized the immense potential of online businesses earlier in her life. She emphasizes that the concept of making money online is still relatively unexplored by the general public. Her advice: stay open to learning about SEO and monetizing a blog from the outset.
Biggest Mistake
Kalyn candidly acknowledges that her biggest mistake was related to organization. Overlooking the essential task of staying organized has resulted in missed brand deals and costly errors. She underscores the significance of attending to these less glamorous but crucial aspects.
Advice for Fellow Entrepreneurs
Kalyn's parting advice is to be discerning about the information you consume and the people you engage with. She encourages aspiring entrepreneurs to seek guidance from individuals who have achieved success in their own businesses. Surrounding yourself with those who share encouraging success stories can provide the motivation needed to pursue your own goals.